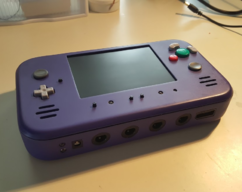 Broke BitBuilt
Staff member
.
.
Joined

Dec 15, 2016
Messages

1,017
Likes

1,361
Location
Portables

3
I've been putting off posting this thread because I wanted to make sure there were no issues before I say it's done. After a lot of closing the case and reopening it, all the issues are ironed out. It's done.
Worklog
Features
OMGWTF trimmed Wii motherboard
Custom 3D printed case
7.4v 6800mAh (2S2P) 18650 battery configuration
Single port charge and play with red/green charging LED, works with standard 12v DC adapter
5" 4:3 composite display
Stereo speakers with volume adjustment buttons
Original GameCube controller buttons and 3DS sliders
Dual tact shoulder buttons
All four controller ports, with a switch for internal/external p1 controls
Original AV out port to play on an external TV
IR LEDs for Wiimotes
Bluetooth sync and reset buttons
Games loadable via USB
Images







Video Demo

Background

I started working on my portable in February of 2017, and it took me 11 months to finish. I wanted something I could bring to friends' houses to play smash, so having 4 controller ports and AV out (because CRT or GTFO) is essential. My portable transformed significantly over the course of those 11 months. In some ways, I'm glad my GC died on me, it allowed me to rethink my plan. I learned a lot of useful skills such as 3D modelling and better soldering skills, which led me to a better end product. Here's what my portable would have looked like if the GC hadn't died.

Thanks

I have a lot of people to thank with which this project would have been impossible without.
@Aurelio
,
@Gman
,
@Madmorda
constantly helped me with ideas, supplies, and troubleshooting. But my biggest thanks has to go to
@Shank
. He helped me throughout this entire process since the very beginning and there's no way I would have been able to finish this without him. He put a lot of time and effort in for me to make sure I was able to complete this project. He originally laser cut the case I was going to use for the GC, printed my case that I used for the final product, sent me a ton of little parts that I needed, and spent many hours chatting over discord voice with me during the long portablizing night hours.
This process has been a lot of fun and I've already begun planning for my next portable. Keep an eye out!
Last edited: