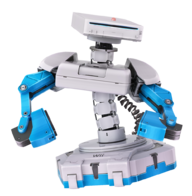 Moderator
Staff member
.
.
Joined

Jan 31, 2016
Messages

1,262
Likes

2,669
Portables

6
Kill Mii
Complete Wii portable in an Altoids tin. Because reasons. This portable is not logical, comfortable, or practical. But it must be done... for the memes.
I want to put a Wii in an Altoids tin. I don't think its ever going to be possible to go smaller than this. Ive spent quite a bit of time on the layout and I have figured out how to make it work.
Planned features:
-Body made from an Altoids tin. It will not be painted, and will look like an Altoids tin.
-2" 320x240 composite screen from AdaFruit
(Dont buy it from adafruit. They kept sending defective screens and it took weeks and a ton emails/tweets to actually get a response from their customer service. See later in the thread for details)
-Some stupid custom board trim with full NAND relocation
-Tiny LiPo cells with high C ratings from batteryspace for like 15 mins of battery life.
-3 Ti Regs (1.15v, 1v, 3.3v), tiny linear reg for 1.8v
-Mono audio from an older version of RDC's smAllMP
-35mm blower fan if I can fit it, passive cooling using the tin if I can't
-3DS sliders, GC+, all buttons are tact switches
-Misery and self loathing
Face Time
The first thing that will need to be accomplished is the face. I spent a few hours trying several different layouts, but I think this is going to be the final one. Although not too comfortable, most space effective way for the extra buttons was to have L, Start, Volume Up, Volume Down, Z, and R in a row at the top.
The whole face is packed tightly, so there is literally no room for error. I have measured all of the components with calipers and fit them into a vector of their exact placements. The components' outlines will be removed, and left with only the vectors of the holes. This will then be cut on a vinyl cutter to make a decal template. The decal will then be stuck to the tin to have a way to perfectly line up the holes. All the holes other than the screen are round, and can then be drilled using a drill press. The tin itself is malleable, so a 3d printed or wooden block will be inserted below to prevent the tin from bending while being drilled. The square hole will be done with either nibblers or a file.
Here is the mockup:
And the Vector
More to come!
Last edited: