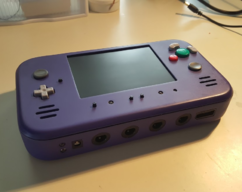 Broke BitBuilt
Staff member
.
.
Joined

Dec 15, 2016
Messages

925
Likes

1,204
Location
Portables

1
@jefflongo

No space for Z button? Do not disappoint me!

I've done all Original Gamecube buttons on smaller cases!

Just do it!
The problem lies within how I planned the side panels. Here's a schematic of the side panels (not at all drawn to scale).
If I had done this project again, what I would have done was move one battery to the other side of the case which would have let me move the motherboard over to the left more which would have gave me more clearance for a Z button. I didn't anticipate how much more room I would have on the left side because I have only recently built these shoulder buttons which are much smaller than the one's I was originally going to use, and putting a Z button on the left side is not acceptable to me. All in all, I'm happy sacrificing a bit on the Z button to have all of the other I/O I have built in. That being said, I will still have a Z button, it will just be a tact switch.