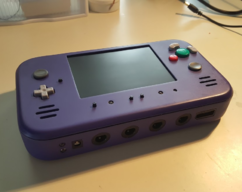 Broke BitBuilt
Staff member
.
.
Joined

Dec 15, 2016
Messages

925
Likes

1,204
Location
Portables

1
Hey all, I'm attempting to build a GC portable! I'm pretty new to this but it's certainly been a learning process. My goal for this project is to build a portable that has 4 external ports and AV out so I can use it on my own, or use it as a console for friends. I'm going with an untrimmed rev C board just to make things as easy as possible for a beginner like myself. You may be thinking, why not a wii portable? Well the answer to that question is that I got my hands on a WASP + MEGAdrive v5, I want to have minimal trimming/relocating, and I got this GC for dirt cheap. Also got a hold of the GC+ board to make adding the internal controller a bit easier.

So far I've removed the connectors from the board and soldered on a memory card. I just picked up an SD socket which I'm going to solder to memory card slot B to flash Swiss onto the WASP when it arrives.
I'll keep this thread updated with my progress and ask questions when they come up! Nice to be part of this community!
Update 1 (2/3/17)
Update 2 (2/8/17)
Update 3 (3/5/17)
Update 4 (3/28/17)
Update 5 (3/29/17)
Update 6 (3/31/17)
Update 7 (4/2/17)
Update 8 (4/17/17)
Update 9 (4/28/17)
Update 10 (5/8/17)
Update 11 (5/30/17)
Update 12 (5/30/17)
Update 13 (6/8/17)
Update 14 (6/10/17)
Update 15 (6/11/17)
Update 16 (7/14/17)
Last edited: