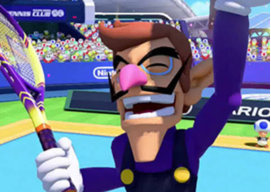 Joined

Dec 16, 2016
Messages

1,049
Likes

2,409
Location
Portables

3
So there was a party this last weekend. All 3600 of you were invited but I guess y'all didn't think this was worthy of your attention?
Time to prove you wrong.
This thread is for any and all images relating to MGC, I just don't want a repeat of last year where the images all got put in a private chat to never see the light of day until 11 months later. Front page article coming soon(TM).
Thursday was fun, but I don't have any good pictures. Gman troubleshot everything, people took lots of Fireball shots, and I took a shot at sleeping with cheese (͠≖ ͜ʖ͠≖).
Cheese attempted to kill the Waker with his mad Tetris skills. Jokes on him, my dpad sucked so he had to use the 3DS slider.
One angle of the room shortly after setup on Friday. Lots of sexy portables out there for the world to destroy.
The Nobble/Postman zone had lots of neat stuff and trinkets to give away.
Work got started on the G-Wii Friday afternoon. Shank started off by trimming the buttons, and thankfully he messed up on the first batch so we had to use some Madmorda buttons instead.
The modding corner back when it was organized. Nold worked to swap out the composite screen in the G-Wii for a nicer VGA one, which made his beautiful portable even better. Woodii is a 10/10 portable, had my favorite shoulder buttons out of every portable there by a long shot.
The button wasn't lying.
Cheese took a turn at the G-Wii. His job was to wire up the GC+ without t r i g g e r i n g Gman with spaghetti. He delivered on this quite well.
!wah
:wah:
The vendor refused to sell me just the middle section of this poster.
Two tiny consoles side by side, these were both amazing. Cameo appearance by the N64 3x3 too apparently.
The modding corner on Saturday. Noah is working on Thank64 revival and Cheese is still under the jurisdiction of Gman's whip as he moves onto securing the batteries in the portable.
Sneaky picture of Ben Heck. On Friday night he showed up for 3 minutes, yelled "Who wants to go to the bar?", and left for the rest of the night.
Gman pours out some "extension cord" for everyone soldering. No outside food or drink allowed, so naturally it was only extension cord.
Noah takes a crack at the G-Wii. HackerBilly is probably doing something with a Virtual Boy.
Postman and MasterNate discuss the finer points of the ethics of having Wario in a game for children.
Cheese brought out the Tetris on Saturday night. He curbstomped MasterNate, me, CrashBash, and a couple BenHeck Forums blokes in quick succession.
Wide shot of the room's setup.
Shank fields some questions about all the portables. He and CrashBash were the MVPs of MGC, the two of them spent most of Saturday explaining what a portable is to hundreds of people. I don't know who said "original Wii hardware" and "no emulation" more between the two of them, but they were champs regardless.
Ultra rare photo of Gman doing some work on the G-Wii.
The BB-Wii after getting all closed up. We were actually able to finish it completely before the end of MGC. It looks really nice, on the insides and outsides. Having a project to work on inside the room was a lot of fun. We'll have to build a purple portable next year though, so I'll get on that.
Not pictured:
-Aurelio

-ShockSlayer saying "yeet" 3 times in 30 seconds.
-The dude who got so excited about "GAMECUBES TO GO" that he had to run out of the room and never come back
-A ten year old kid who asked some really good questions about the portables and would probably make a great member right now.
-The group photo. Deebug took the pictures so hopefully it'll show up in here shortly.
-Nold providing everyone with delicious chocolates.
-The train game
-The KillMii or melted PiiWii pocket.(This may the only year that more portables end up in Hawaii than break at MGC. Shank managed to comprise 100% of both camps)
This weekend was a whole lot of fun. I'm really glad I went and look forward to future BitBuilt meetups!