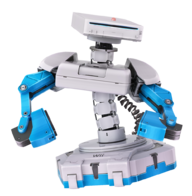 Moderator
Staff member
.
.
Joined

Jan 31, 2016
Messages

1,229
Likes

2,580
Portables

6
Small update:
Screen:
-Screen is likely a dud. Adafruit customer support blows. Would not recommend. Will update if that changes.
Updated case layout.
Picture below. Left is component outlines, and right is the holes that will be cut
-Volume tact switches are being moved to the side to make more room for LCD ribbon cable.
-Tact switches spread apart to allow half to be rotated and ground legs all soldered together, so only 1 ground wire is needed per cluster.
-Swapped to a thinner fan that'll give me more room. Thanks
@Spencer Richardson
for the sweet recommendation.
-Increased screen cutout to include black "inactive" part of the screen.
-Probably not the FINAL layout, but getting closer.
Electronics:
-Most parts came in the mail already
-Ready to go pick some parts up from mouser. Just have to pick out a tiny SPDT power switch capable of 2a...
-Nand relocation is hard as ballz.
@Gman
and I came up with an idea, then coated it in memes. Waiting on the package.
Stickers:
-Vinyl decals work great as stencil stickers.
-They look cool too. Stuck one on my laptop. May be willing to ship some out to people after I finish if people want one.
Altoids tin:
Cutting a hole in an altoids tin is easy. Cutting a clean hole without utterly deforming it is way, way harder than I expected it to be. The material is hard enough to not bend the way you want, but malleable enough to bend when you don't want it to. Drill bits blowout and deform, even with wooden support blocks behind it. Larger drill bits cut fold and tear it to shreds. Dremel doesn't play nice either. The corrugated letters make supporting it from behind properly nearly impossible, and hammering them flat leaves the tin with a wobbly convex shape. I have a few ideas ready though, and will be posting them once I test them, but will be going through several tins to get this done right. Life would be so much easier if I had access to a 4000w laser.
On an unrelated note, anybody like Altoids?