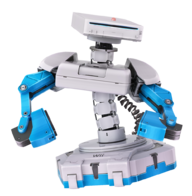 Moderator
Staff member
.
.
Joined

Jan 31, 2016
Messages

1,230
Likes

2,583
Portables

6
ABOUT:
As promised, I am releasing the CAD files for the GameCube JoyCons. For most experienced portablizers, this should be a relatively straightforward, but tedious project. Frankencase the 3d printed parts in, and relocate the button data lines to the traces of the button actuators on cut up GameCube controllers. Note that different buttons are connected to the right ground to work properly. Yes, there are multiple grounds. Although tedious, figuring out which goes to which can be resolved with a multi-meter. I did not write down which goes to which. Relocation points can be found in
DekuNukems documentation
. Not all the information is there, but again, the rest can be deduced with a meter. I believe the analog sticks have their own ground, and the stick click needs to be pulled up to 1.8v instead of pulled to ground. Also worth noting is that the original PCBs that come on Wii U sticks invert one of the axis's, so it must be soldered and replaced with the plate in the files. The files aren't great, as I just made them intending it to be a 1-off project.
I am releasing these under the Creative Commons Attribution-NonCommercial-ShareAlike 4.0 International License. I do not want these to be commissioned and sold.
However, because my video has obtained so much traction outside the modding scene, I need to add this disclaimer.
IF YOU ARE NOT EXPERIENCED AT MICROSOLDERING, THIS IS NOT THE PROJECT FOR YOU!
THIS PROJECT IS NOT EASY. IT IS NOT MEANT FOR BEGINNERS. NEITHER I, NOR ANYONE ON THIS FORUM, IS GOING TO HOLD YOUR HAND THROUGH IT.
Seriously. If you do not have a good, temperature controlled iron, you will not be able to do this project. . Your dad's fire stick in the garage will not work, and is just gonna destroy the pads. If you cannot do the kind of soldering pictured here, you CANNOT complete the project. Please do not cut your controller in half until you are sure you can perform the needed micro soldering. If you CANNOT do this kind of soldering, you WILL NOT be able to finish this project. If you have to ask what soldering iron, solder, or wire to use, this is not the project for you. If you have never soldered to 0402 pads, ffc pins, or scratched traces, this is not the project for you. Because that is every soldering point on this entire project.
I get dozens of messages about these per week, and I cannot help hold everyone's hand through the project. If you cannot do this kind of soldering, this is NOT THE PROJECT FOR YOU.
Update 1.1 8/2/2020
-Replaced the start button holder STL and IPT files with the thicker one I actually used in the joycons. The one in 1.0 was the wrong one, and the walls were too thin to print properly
-Moved older start button holder to the old folder within STL
-Added a slightly redesigned "stick holder assembly" in the stick holder folder. It is the 2 previous parts merged into a single, stronger design that should be easier to assemble. Its not what I used in the actual joycons, and isn't thoroughly tested, so i have also left the old stick holder files unaltered.
Last edited: