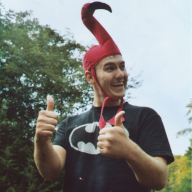 Joined

Nov 10, 2016
Messages

606
Likes

1,618
This is the last of my old projects I'm going to post on BitBuilt. I'm resolving that anything going forward will be current projects. That way I'll actually be motivated to work on something new.
Dreamcast ControlView is a DC controller with a 3.5" screen in place of the VMU window. It uses a breakout box to send 5V and composite A/V to the controller via detachable USB-A to USB-B printer cable. Controls are unaffected, so it still functions as a regular controller, sacrificing only one of the VMU slots.
You can see speaker holes peeking out behind the trigger. Speakers on both sides of the VMU.
Controller embiggening. This was for a compo on the now-dead Bacman site, so ignore the sign.
Nothing fancy inside the breakout box. But in hindsight, this is where I should have put the audio amp.
Last edited: