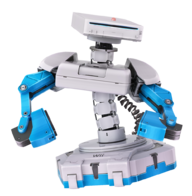 Moderator
Staff member
.
.
Joined

Jan 31, 2016
Messages

1,113
Likes

2,144
Portables

4
The Wii U is still mostly uncharted waters.
Portables and the future of the Wii U
Current documentation on the Wii U shows is unlikely that the Wii U will be suitable for portables. However, this could change as more is uncovered about it. Nobody believed the Wii would be a suitable portable, but look where we are today.
Current obstacles for Wii U portables
Little to no documentation
Circuit board is larger than Wii's
Primary components on board are spread out
3 wireless cards, rather than 2 with wii
Consumes more power than Wii, even in wii mode
Number of layers is unknown
Software is not as hacked and modable
Currently expensive.
Revision codes
I have begun checking the revision codes of Wii U's at pawn shops. Although only the 01 board has been dismanteled photographed, I have encountered 2 codes.

01
30

Motherboard Pictures
Here is a album of Wii U motherboard pictures I took a while back.
Last edited: