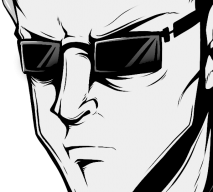 I'm the scanman
Staff member
.
.
.
Joined

Jul 12, 2017
Messages

434
Likes

1,063
Location
So this is my first Wii trim and case design. I figured i'd start out with a rather simple mod before moving on to a portable.
THE GOAL:
To create a case that is simple to print and assemble.

To reuse a decent amount of Wii components and screws.
Small enough to be cute but retain decent thermals.
Easy to modify backplate (using tinkercad) to accommodate other AV and power methods.
STL files can be found here:
https://www.thingiverse.com/thing:3775435
The power button height and switch mount may need to be modified to accommodate whichever switch you decide to use. Easy to find low profile switches can found in cheap pocket LED flashlights.
Cut the USB to this shape and power the fan header from the USB's 5v and GND.
Trim the Controller ports as short as possible, otherwise they'll hit against the heatsink.
The Wii's fan, heatsink and the switch bracket are mounted using screws from a disassembled Wii.
The original heatsink screws are slighty too long and can press on the bottom of the case
, use a shorter screw from a disassembled Wii.
Additional Screws used:
M3 nut x2 (Mount VGA)
M3x5mm x2 (Mount VGA)
M3x20mm x4 (Case Screws)
The case is designed for the Wii 40 and 60 boards which should run cool enough to not warp PLA. I tested thermals and after 2 hours of gameplay the case ambient temperature was approx 37 celsius.
If you are using a 6 layer board they will generate more heat, use PETG for the bottom piece if this is the case.
Special thanks to
Shank
for his insightful input and
Aurelio
for his dope af VGA mod.
Last edited: