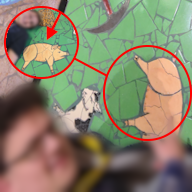 Ivan - the tyranny of evil men
.
.
Joined

Jan 16, 2016
Messages

1,493
Likes

3,757
Location
Portables

All
Hello and welcome to the best deal you will ever get.
This is an LMAO trim board with a full heatsink + fan duct setup. It's got Bluetooth, MX chip, regulators(including a full 5v PTH08080 for those dank HDD adapters) and to top it all off, It's got an AV port, power plug w/switch, GC controller port and a USB port soldered right on. No wifi module 'cause memes.
Also this board has a rep; it was used to test MX chip-less emulators. Note the lifted 4 pins on the bottom right - that's how we do it.
There's one catch to this board, currently the audio output is super quiet. I think it needs some extra caps or something. I'll gladly fix that before I ship it off to you.
The only question is this: do you want a fully functional* Wii in the palm of your hand? $100 shipped, PM me if you're interested.
*fuck wifi