So, a couple years ago, I got burned by buying a busted PortaPackit unit off eBay in the hopes that I could fix it on the cheap and have a decent portable to play around with (my very first!). Alas, when I opened it up, it turned out to be a bomb (see:
WARNING: DO NOT BUY FROM PORTAPACKIT!!!
).
When I saw another dead PPI unit pop up on the forums in need of a new home after an attempted repair (see:
Reviive Worklog and Questions - Portable Wii Brought Back From The Dead!
), I decided to make the same mistake twice and welcome it into my loving arms. Taking a look at the outside, the design has definitely gotten better since the last time I played with a PPI portable:
As you probably expected, that niceness all goes away once this thing is popped open: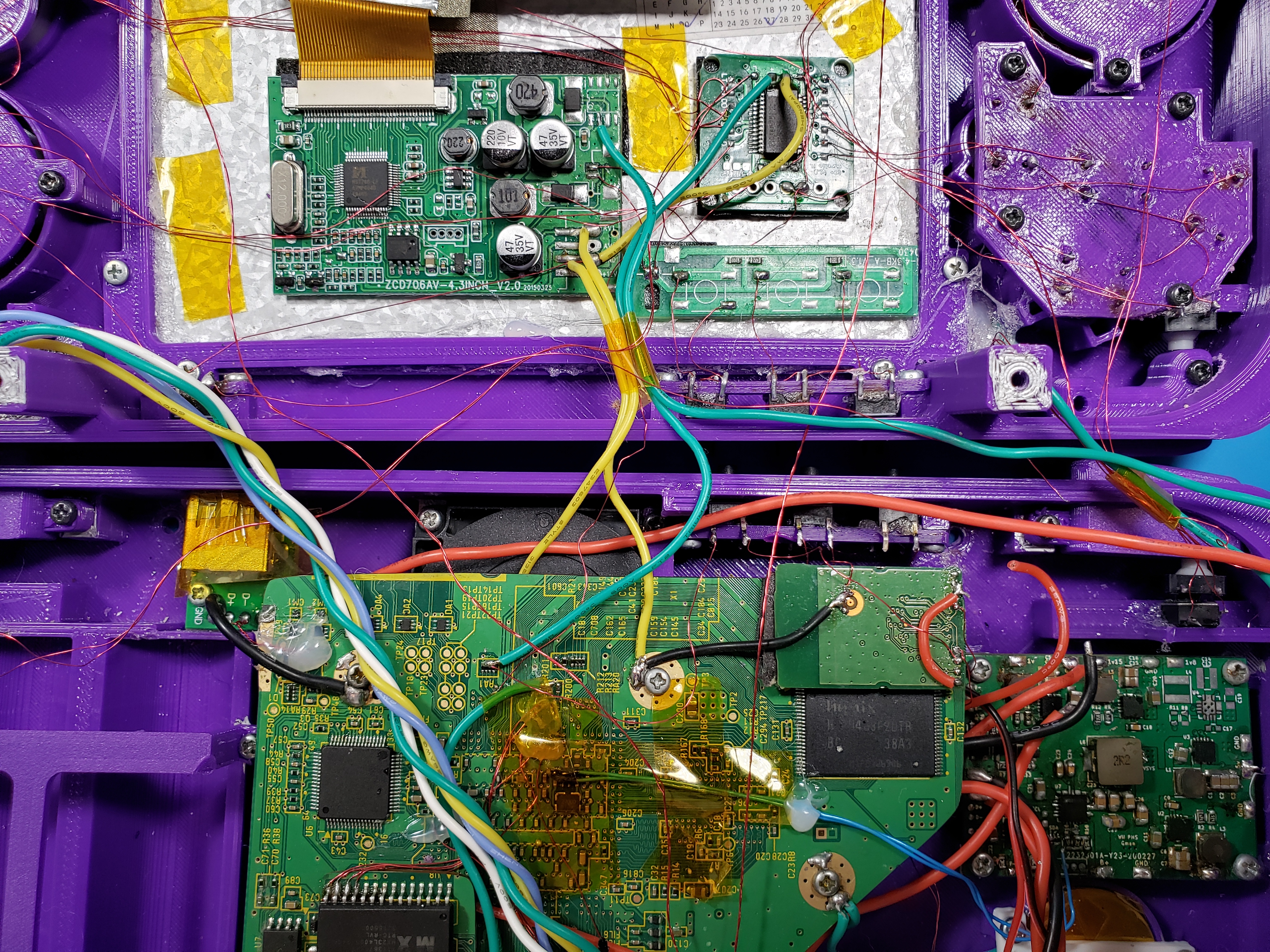 Quick side bar: the MX chip and BT module are stuck to the board with this super strong black sticky foam tape stuff. I don't quite know how to get it to unstick, I've tried running a Q-tip with IPA around the edges to try to get it to release, but no luck so far. Any suggestions would be much appreciated!
In the original worklog thread by
@sappyjupiter37
, the overall consensus was that something was up with the PMS. Popping that bad boy out, we can see if there's anything funky going on with it:
Pop goes the BQ! Even if the BQ wasn't blown, I would be amazed if this thing worked as it is. Luckily, I made up a bunch of old PMSs before the chip shortage, so I plan on just replacing this with one from my stash.
So, in my grand scheme of how I plan on getting this thing back up on its feet, my first goal is to completely disassemble the entire unit. All existing wiring will be completely scrapped. The Wii mobo, U-amp, GC+, etc. will all be looked over with a fine-tooth comb and will be touched up where necessary. I don't want to put anything back into this unit that does not live up to my own standards. Once everything is confirmed to be looking good, I will slowly reassemble the unit. Right now I'm still in the midst of disassembly, as, although there are some decent screw mounts and brackets that should hold everything in place, there's hot glue *under* the mounts as well. This is making taking the screen out a huge PITA.
There are also quite a number of stripped screw posts in here. Any tips on how to fix those?
That's all I've got for right now, but I hope to steadily work on this until I get it into working order. Cheers!