Joined

Jun 17, 2022
Messages

36
Likes

24
I had been wanting to build a portable for a while and I recently found a deal on a wii in significantly better cosmetic condition than my HDMI modded one (which was spotless internally when I got it but the exterior looked like someone tried to buff out a scratch with 120 grit sandpaper) but with a defective optical drive and some rust starting to form on some of the ports, so I figured it was time to build a portable and swap the case on my other wii. I got the wii I am using for the portable in the mail today along with various other parts, so I got the softmod installed along with RVLoader, then I ran into my first issue. I installed the VGA patch when I installed RVLoader, but that disabled component output, and I apparently don't have any wii composite cables, just way too many component ones. I thought this wouldn't be too much of an issue, figuring component was disabled but the guide didn't say anything about s-video, so I could just plug the green cable into a composite input on my TV to send a luma signal that is also used for s-video, which the tv should interpret as a black and white composite signal, but that didn't work, so I ended up trying to crack open the casing on my crappiest wii component cable so I could move the green signal over to composite and test out the RVLoader menu that way. That plan didn't work out so well, the casing was way too durable, it took forever to break my way through the several layers of nested casings, and when I finally got through it all I found they just pumped the whole thing full of molten plastic like hot glue on a poorly implemented console mod, and I somehow managed to mangle the pins on the interior of the connector without damaging the exterior, so I just chopped the whole thing off and stripped back the insulation and soldered one of the coaxial cables directly to pin 3 of the AV connector on the wii motherboard so I could test that my RVLoader install was working.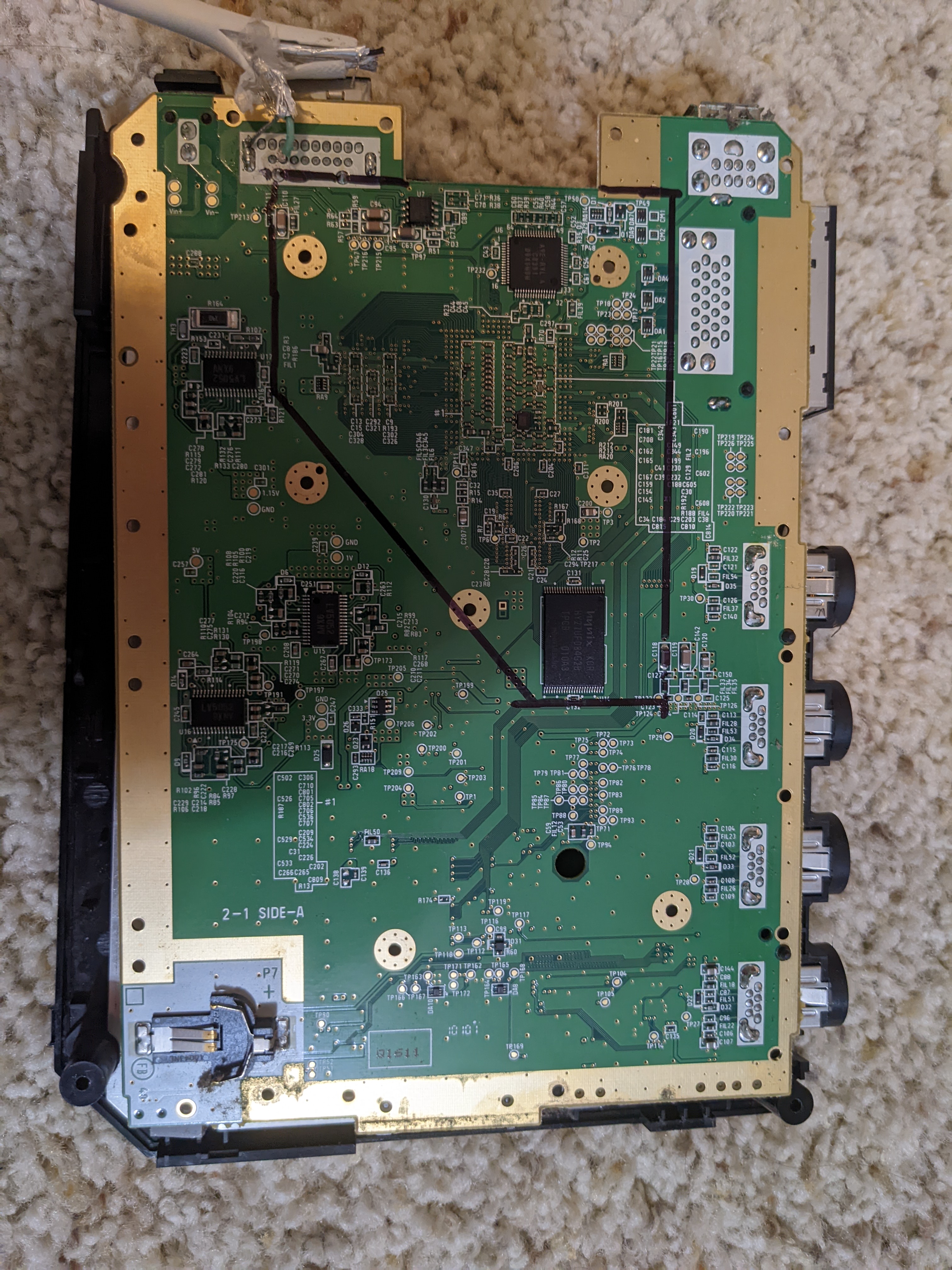 After that I got my wii and gamecube backups moved over to my flash drive and made sure they would load, and I disassembled my HDMI modded wii while I waited, but by then it was getting dark outside and I would rather not do my trim inside and get the dust all over the place, so I just marked out my lines for the trim, desoldered components that might get in the way when doing the trim, and still had plenty of time left in the day so I desoldered all the ports so I would have plenty of room while doing the trim. My cheap $40 hot air station was not at all happy with that process, at 350C it wasn't producing enough heat to deal with the ground planes so I had to crank it to 400C for the memory card port and the fan was struggling to keep temperatures that high, but I eventaully managed for the most part, there were a few places where I just had to lift the port enough to slip some flush cutters under it and snip what was still stuck. It was completely unnecessary but I had time and it should make things a bit easier for me tomorrow.
Once I finished that I cleaned up the shell from the wii I am planning on hacking because it had some pretty heavy dust buildup, luckily it was only dust. When it dries I will put the HDMI modded wii back together using the best parts from each shell and tomorrow I will start on my trim. I should be getting the ashida PCBs in the mail Monday or Tuesday as well as my mouser order and a busted gamecube controller to salvage some parts from. Unfortunately my case order is still an estimated 10-13 days out so I will be waiting on that for a while. I might try to model a battery pack to glue onto the back of the case to accomodate a couple extra cells for more battery life, it would be ugly as hell to have a battery tumour sticking out the back of my handheld, but that didn't stop several console manufacturers from putting them on their controllers and/or handhelds or accessories for them, and I figure with some bondo and a paint job I can at least beat the looks of the game gear PowerBack. I already made one attempt at it, but made two major mistakes, one was thinking I was using 20700s not 21700s and designing around those dimensions and the other was assuming the channels for the batteries only needed to be large enough to fit the nominal dimensions of the batteries, but my cells are larger than the nominal size and I would need a couple extra milimeters for the battery tabs (21700s are supposed to be a 21cm radius and 70mm length, mine were 21.27mm x ~70.5mm, I'm not going to close my calipers on the cells lengthwise because that would short them and be very dangerous).
If anyone could double check my lines for the trim I would appreciate it, I have a decent amount of modding experience but I have never done anything that would require a trim like this, other advice would also be helpful, although I don't have much in the way of specific questions besides whether the coaxial conductors salvaged from a VGA cable would be suitable for connecting my VGA signal to the monitor. They can obviously carry a VGA signal as that is what they were designed for, but I'm not sure if they would be too thick, the outer insulation on them is about 2.5mm so I am somewhat worried they might be too stiff, although it would be great if they will work because they are well shielded and color coded for me. If they are too thick I have some scraps of unterminated ethernet cables so I guess I can pull some twisted pairs from that to save myself the effort of twisting wire myself and having to deal with pairs that are matching colors because I only have one color of magnet wire.