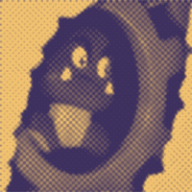 Joined

Sep 20, 2016
Messages

39
Likes

98
Here's my one "contribution" to this community: if you ever wanted to fit a pi zero in a super tight place, this should help you.
I mostly wanted to see the inside layers of the pi zero to see what could easily be trimmed, most likely power regulation components, and if other stuff can be relocated also.
I did all this almost a year ago now and I have no excuse for not posting it before

The scans
Inside the .psd file you will find all 6 layers of the Pi zero v1.3.
For the sake of legibility I decided to go further and completely post process them in a way that allows to color code traces easily.

I chose Flash (Animate CC) for a few reasons: All drawings are vectors, meaning you can change their whole color without pixel artefacts; they can be resized to any resolution; you can ctrl+F colors.
If you have Flash, have a look at the file. I tryied different color codings depending on the situation.

The colors are arbitrary. Dark Blue means I haven't found a function for the traces. Light blue is GPIO.
Trimming

I have not delved deep into pi zero trimming. I wanted to confirm that the GPIO can be trimmed and the Buck regulator relocated.

As you may have seen from the scans, it seems the GPIO can't be trimmed without severing an important feed of the 5V line. I would like some input on this to see if I'm wrong.

Cutting the board along the end of the OTG USB seems reliable and I've done it twice now. It works pretty well.

I would like to see if the leftmost side can be trimmed. The SD reader can be relocated with no problem. But I don't know about the components next to the HDMI. For one, there is a crystal extremely close to the port. Also, I do no know wether the HDMI parts can be completely removed if you use composite or video through the GPIO. Someday maybe I'll investigate this, provided I can get some cheap pi zeroes.