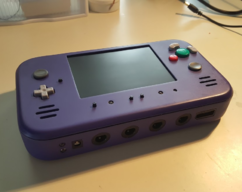 Broke BitBuilt
Staff member
.
.
Joined

Dec 15, 2016
Messages

1,017
Likes

1,361
Location
Portables

3
That spinning gif tho :O
You may have an issue getting the power port in there, even though it fits, gotta leave enough room to slide it in.
Yeah I just opened it in view 3d then recorded the window haha.
There's actually quite a bit of room to get that in there, I think I'll have trouble with the shoulders if anything. This is definitely not going to be the final form of this case. I've already made quite a few tweaks to it and I'm having it printed to test out. I'm likely going to make more tweaks along the way, especially with those screw posts because they're going to have to work around where the buttons/sliders are going to be placed at the top.