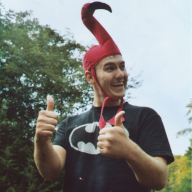 Joined

Nov 10, 2016
Messages

604
Likes

1,614
Portables

3
Three years ago
I came up with a design for a meme portable as part of a mini contest that Aurelio put on. It was enough to win me a GC+ (thanks and by the way, I swear I will put it to good use someday) and I told myself I would someday actually make the portable from my design.
The design was simple, although not terribly well thought out. Take the hard shell case that an iPhone 5C comes in, throw in a Pi, batteries, screen, and call it a portable. My original plan was to cut holes in the clear lid and
somehow
mount buttons to it while keeping the lid transparent.
Batteries? Like some AAs or a 9v. Seriously, it's a meme.
I didn't have a 3D printer in 2017, but I do now, which means I can put a little more thought into the innards now. I originally wanted to make a single printed piece that would hold all the components together, but I couldn't wrap my head around how to do that AND make it printable, so I opted for a multi print set up. One piece holds batteries, pi, and charging board; one piece holds buttons; final piece holds screen and keeps the buttons in place.
Initial test print. Not everything fits perfectly yet, but that's why it's a test. This design does not incorporate the clear lid that came with the case. Instead, I'm rounding out the top print (see 3D model) and having that nest inside the phone box. When all is said and done, the clear lid should still be able to fit over everything, providing protection when the portable isn't being played.
Also, decided to use a pair of 18650s that only lasted about 30 minutes when powering a trimmed N64.