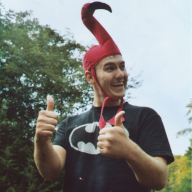 Joined

Nov 10, 2016
Messages

606
Likes

1,621
Although I hate having multiple projects going at once, I need some parts in order to continue my PNP console but I'm currently saving cash for Christmas, so I wanted to switch to something I already had parts on hand for.
My only completed 64p to date is the Luma 64, a portable that, while I wasn't entirely dissatisfied with the exterior, admittedly had crap for internals. I decided that I would rebuild it from the ground up, putting it in a newer, smaller case. The new case will most likely not be glow-in-the-dark, making it less cheery/more gloomy than its predecessor. Hence, Glooma 64. Maybe I'll paint on skulls or gargoyles or something to really drive the point home.
Here's what remains of the Luma. Cart slot was relocated with Bungle's 27-wire method which worked out pretty well. Trimming was very minimal, basically just cutting off some grounding to make a bit more space in the old Tupperware case. Left controller jacks were ripped off because I only had a crap RS iron when I started the Luma circa 2010. I'll do a proper trim this time around in order to maximize space. Also will be switching to one of the $10 3.5" screens that I recently picked up since those work great with the 64. Previously had a 5" that I perma put in 4:3 ratio because all the smaller backup monitors I bought had issues with older consoles.
Popped off the heatsinks because the Luma was having some overheating issues and I was worried that was the problem. I had used a dab of arctic silver on each sink then secured them with a tiny amount of super glue in each corner. Now there's leftover superglue residue on each chip so I'm worried that I made a grave mistake. Any advice from veterans on the cooling situation? I thought about going at the residue with some acetone to get it off, but was worried that would damage the chips. What about re-attaching the sinks? If super glue isn't the way to go, how else would I do it?
Once I get the board trimmed, I'll start designing the case. I'm thinking of doing something with a somewhat organic design and I'm wanting to experiment with casemaking using only abs cement, something I can supply in abundance.