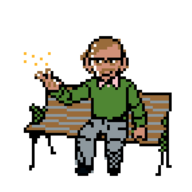 Modelrater
.
.
.
Estmemed Member
.
Joined

Feb 17, 2016
Messages

641
Likes

1,456
Portables

Always 1/2
Hey girl hey. As it starts to warm up again in the midwest, I'm working on making a 3D printing venting enclosure so I can print again (it's pretty difficult to vent and use ABS in a house), or at least print outside so just trying to get all my 3D Printing Tasks in order beforehand. I'll keep reusing this thread for whatever I'm currently working on, and this time that is of course MGC. We'll have a printer running PLA all weekend, but it's also nice to have some completed prints already done to show off. It's about a month to the show so here's some things I have designed/found on thingiverse to make and display, with the order of the prints in highest priority. I'm probably going to stream some of these prints too perhaps, as I'd like to make sped up time lapse videos for youtube on printing case parts.
1. Footbaw Horses Keychain x3 from a lost Superb Owl bet. Spooooooooooooortttttttttttssssssssssss.
2. Flashback 2 cart slot holders x2-3 for live mods.
3. MGC Keychain x2 for additional event runners, see if I can make a bunch for 2017.
4. Slimmer MGC prints, probably for magnets.
5. Disk-Kun Japanese FDS Mascot.
6. N64 flat logo print.
7. N64 3D logo print.
8. Lots of Triforce keychains
9. Metroid 8-bit logo keychain.
10. Perhaps some more of
RabbitEngineering's Tiny Consoles
if Time Permits.
PREVIEWS:
Soon.