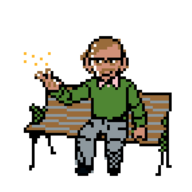 Modelrater
.
.
.
Estmemed Member
.
Joined

Feb 17, 2016
Messages

649
Likes

1,467
Portables

Always 1/2
Found this carcass of a portable in my room. It
was
finished at one point but was pretty much band-aided together so I never really posted much about it and sacrificed it for parts pretty much right away. All the pictures from the before times are imageshack'd (grandaddy of photobucket'd) and lost to the ether so whatever I guess. Might as well Quantum Leap it back into something usable.
The NESp as it stands today. Made from the 6x4x2-Inch Radio Shack Project Box, was modeled after
Tighe Lory's 2001 NESp
. Originally I started off with the 8x6x3 size, but with a NOAC it was definitely oversized. The 6x4x2 works out pretty well, enough room for batteries (AA's ayy lmao) and all the boards and controls.
The top, has the cart slot (which I was pretty proud of the sanding job on lol) and the start/select bits from the original NES controller: one set for volume up/down and the other for start/select. Would've been nice if I didn't just hotglue them in place. The power switch didn't turn out as well as I had hoped either. Good design choices there, doom.
Screws just bolted into the side to try and keep the motherboard in place and fight the deathgrip of the cart slot when pulling out the games. Pretty ugly and didn't really even work that well. ¯\_(ツ)_/¯
The rats next inside. I had the AA holder on the bottom and the motherboard on top of that. In theory it would work out well if I designed it better lol. The controller board was just placed behind the screen and it seemed to fit okay there, other than it wasn't really secured down anywhere.
The buttons, wasn't even using squishy tacts! I think I took these from a modem. They worked okay but I have squishy tacts now.
The dpad setup worked pretty well actually, this board being from a SMS controller that already has the board in two halves.
Here's where the screws went into, a piece of wood that secured the board in place. Didn't really help with the cart death grip cause the back and middle of the board flexed too much.
<hr></hr>
My plans to class everything up and fix this is to 3D print a skeleton, or a rollcage if you will, to hold everything in place. Good practice too for a V2 or spiritual successor on other portables that I could do a clear case. Neat. More designs of that and all of that, tomorrow :palmerdash: