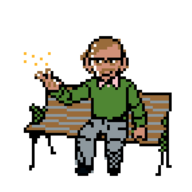 Modelrater
.
.
.
Estmemed Member
Joined

Feb 17, 2016
Messages

662
Likes

1,508
Portables

Always 1/2
The Ghosts of Portables Past
is an Annual Community Event brought up upon the community to come together to finish old neglected, defunct, and abandoned projects that have been left to waste away in a dusty corner or back drawer of your workspace area.
Through the entire month of October, Bitbuilt is proud to once again host the Ghosts of Portables Past for the third consecutive year. Do you have a project that you would like to submit for the Event? The rules are as follows:
1. Qualifying Projects must be
at least 8 months old
from it's original worklog thread creation and
at least 4 months
since it's last update. There will be slight leeway on the dates, but keep in mind it doesn't really fit with the theme of the event if you started the project three weeks ago. This entails that 2019 Summer Contest projects do not apply for this contest. Shove it in a drawer and may our paths cross once again for Ghosts 7.
2. A Worklog showing the original creation date of the project and continuing updates should be available, posted at any site. If your worklog was posted on a dead forum, check
archive.org
or
google cache
for any backups.
3. For your first new post, give a short summary about your project; the name, old worklog link, starting date, and last update should be listed (if not the current thread) where you left off and why to the best of your ability. The journey is sometimes as important as the destination.
4. All post updates must include a note stating your username, noting the Ghosts 6(66), noting the Secret Code Word of
PRECIPISATAN
in all picture updates. Also be sure to update your threads with the GHOSTS category drop down list.
5. Projects must be all your own work, so no commissioned board trims or cases. Additional addon boards like GC+ and PMS are allowed though, as are Madmorda's custom molded buttons.
6. Complete your Project between October 1st thru October 31 11:59 Central Time, and a special Featured article will be posted on the Bitbuilt front page. You will also receive a special Ghosts 6(66) badge to display by your username on the forums.
End your worklog before it ends you!
Ghosts of Portables Past Official Press Release
Bitbuilt Frontpage Article