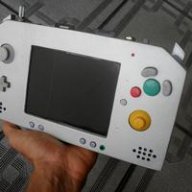 Joined

Jun 6, 2018
Messages

56
Likes

22
A Wii laptop style built in the simplest way possible.
- A NTSC 6 layers wii board with wi-fi and bluetooth.
- Original wii power supply to run all the system.
- No triming (i don't worry about the space in this project, and trimming need more hours of work).
- Laptop LCD screen of 14.1" 1280x800 resolution.
- VGA/HDMI board with embedded audio to drive the LCD and speakers.
- Ir leds on the top of the lid.
- Internal 2.5 HD connected by a sata-usb adapter (I'll make a compartment to remove it whenever you want).
- PortablizerMii with vga mod.
- Original wiimotes and gamecube controllers.
Some pics: