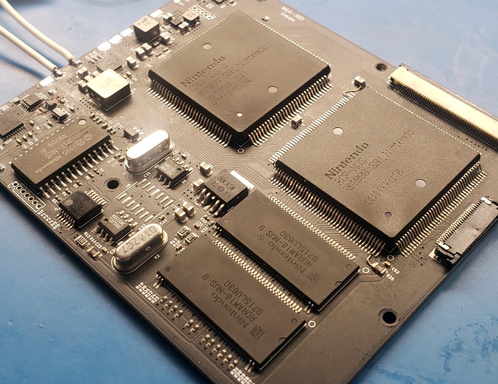 RTFDS
Staff member
.
.
.
.
.
Joined

Feb 25, 2016
Messages

1,407
Likes

2,769
https://github.com/Gmanmodz/Wii-Power-Management-System
Here are the pcb files, code, and bill of materials for my Wii Power Management System.
4 buck regulators - 1v, 1.15v, 1.8v, and 3.3v
1 boost regulator - 5v
Battery management IC - seamless play and charge and battery protection
PIC microcontroller
Interface:
hold down button for around 1 second to turn on and off. Tap button shortly to cycle through the led modes:
1. leds off
2. RGB fade
3. Battery monitor
4. Shipping mode (when it is turned off in this mode, it cannot be turned on until you plug in a charger)
the interface is shown in the Wiivision:
A - "Auxiliary" IO. default code there is no purpose.
btn - wire to a tact switch connected to ground for on/off
T-, T+ - thermistor for thermal protection. Cuts off ~75C
R-, B-, G- - wire to the common anode RGB led, Anode can be wired to a source voltage like 3.3v
CHRG - this is the DC voltage source charger input. Recommended to use 12V DC. Cannot exceed 14V! The default code is set to I charge 3.072 A which is ideal for a 1S2P 18650 battery configuration. Please make sure to check the specifications of the battery against the charging settings of the system before use.
B+ - Battery positive connection
It's not perfect by any means but it is stable and has already been installed working in 3 portables. I would like to thank Aurelio for the answers to many questions I had over the past 2 years I've worked on this and also for the inspiration from his Powermii. I'd also like to thank Shank for helping me test it further on the Wiivision project.
Last edited: