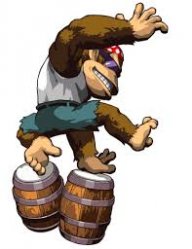 Joined

Apr 23, 2019
Messages

49
Likes

55
Location
Background
Wii laptops were popular among early modders and beginners, like myself, but all attempts I've perused were incomplete, dated, or were not portable (i.e. tethered to wall power).
I don't stand a chance against this year's unique ideas and skilled modders, but I hope to take the title of best Wii Laptop. In tribute to the Toshiba laptop I found in the trash chute that donated its LCD, I went with the obligatory, cleverly placed double "i" in the name.
Goal
Build a battery powered console with a large display for multiplayer Wii & Gamecube games (mostly Mario Party, Melee, & Project+).
Means of transporting consoles are fairly discrete; it's either a pocket or a backpack. As long as I can fit the build in a backpack, I am within my loose definition of a portable. I see this being played on long car rides, game nights with limited TVs, and similar situations.
Primary Features
Features that were conceived prior to R&D. Laying out the features serves to keep me focused on the governing ideas to avoid veering off track or becoming distracted.
Uninterrupted charge-and-play.
3S2P Li-Ion cell configuration.
Bidirectional active cell balancing.
Sleep when closed.
Graphic fuel gauge & power monitor.
Standalone monitor mode (for RPi/Chromecast or secondary monitor).
Secondary Features.
Features that manifest in the R&D stage, mostly due to other parts or design preferences.
Aluminum sheet metal frame.
Wii native VGA.
HDMI in & DVI in ports (for RPi/Chromecast or secondary monitor).
USB power port (for RPi/Chromecast).
High Level Diagram
At the cost of being redundant, laying out a block diagram should keep me focused because it's too easy to diverge from the plan and end up with extra, but incomplete features.
I just finished defining and the project, so I can get to R&D now. This also means I don't have any progress pics just yet. I'll leave you guys with my ridiculous 17" LCD.
Last edited: