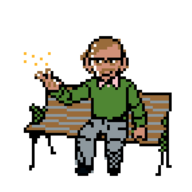 Modelrater
.
.
.
Estmemed Member
Joined

Feb 17, 2016
Messages

660
Likes

1,503
Portables

Always 1/2
Do
you
have an old project collecting dust? In pieces in your closet? Taking up space on your workbench. Why not finish it up in this years
Ghosts of Portables Past
Event, exclusively here on Bitbuilt all month long!
The 4th Annual Ghosts of Portables Past Event is a community event structured around finishing old projects and portables that have been neglected for too long. As the outside turns bleak and dreary, what better time to bring a project back into the land of the living. Not necessarily a contest and more of a community wide
spring cleaning
pre-hiberation ritual, yet there is potential monetary gain, other than uncursing your workbench. Assemble a quick idol as we lay down some rules:
The Project you wish to continue must be at least a year old from it's original worklog creation date, with at least six months elapsed from the last update. Doesn't make sense to resurrect something you worked on last week.
A Worklog showing the original creation date of the project and continuing updates should be available, posted at any site. If your worklog was posted on the defunct Bacman forum, we have full backups to confirm the original project details. You need not to worry about dead pictures, this is just a qualifier for the project dates.
Make a new worklog (or bump the old one if the project is posted here) and add GHOSTS in the title (Maybe Noah will kindly make a subforum for this ayy lmao). All new updates must include a note stating your username, noting the Ghost of Portables Past, and featuring the Secret Code Word of 3SPOOPY5ME in all picture updates.
For the first post, the project name, old worklog link, starting date, and last update should be listed. A brief summary of the project so far (to the best of your ability if old pictures are lost) of where you left off and why should be in the first post, with the continuation of the project starting on post 2.
Project completion date to be between October 1st thru October 31st 2017 11:59 Central Time to qualify.
Project must be entirely yours; any outsourced commission work of any part can still be done for the event but will be ineligible for prizes.
If you finish your project, a special Bitbuilt Featured Article will be posted on the front page, a random game and/or item for the portable you completed will be sent to you (International competitors may need to help in the cost of shipping depending on the location), and a special Ghosts of Portables Past Badge will be given to you on the Bitbuilt forums.
Beware the Ghosts of Portables Past.
Last edited: