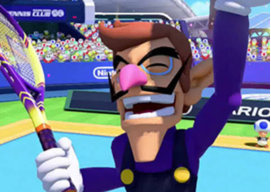 no wario
Staff member
.
.
.
2020 2nd Place Winner
2022 3rd Place Winner
Joined

Dec 16, 2016
Messages

1,112
Likes

2,650
Location
Portables

just so many i am so cool
This is the Louii
The goal was to capture the beauty and grace of Louie from the Pikmin series, but unfortunately I completely overshot.
Features:
Beautiful custom molded Switch buttons and joysticks. If you aren't using Madmorda buttons in a portable in 2019 then you'd better be molding your own. Seriously though, a huge thanks to her for providing these circles of sexy.

Extremely crisp 480p VGA video. Aurelio is kinda cool I guess.

WiiHUD audio amp.

Wii PMS board and all of its accompanying features, like thermal protection, shipping mode, an actual battery indicator, and all that good stuff. Thank you to Gman for open-sourcing this awesome thing!
Easily accessible microSD card for adding more games/homebrew/whatever else
Here it is side-by-side with it's older brother. I fixed everything wrong with the Waker, including its really crummy cooling system and terrible shoulder buttons. Other smaller tweaks were made as well, such as the power button becoming a harder-to-press dome style button, as opposed to the tact in the Waker that took virtually no pressure to activate. The TSA lady won't be able to accidentally turn on my portable on my way to MGC 2020. I haven't had time to give the Louii the play session it deserves but boy am I excited to. The Louii also comes in at 5mm thinner than the Waker, making it 28mm thick. The rest of the dimensions remained the same.
Internals came out pretty nicely. Not flawless but very good by my standards. Wire arches are great, you should all design them into your builds.
I am very confident and comfortable with this design. I would like to start taking commissions on portables, so if you would be interested in purchasing a portable in this design please hit me up and we can see about making it happen. I will also work to open-source the CAD and materials used in this build so that others can do it too. Just know that this isn't a super noob-friendly build, but I'll go over the details of that somewhere else.
Worklog?
Check it out.
Oliimar? Coming soon to theaters near you.
The WaluWiigi 2.0 is the next project in the pipeline, so expect to see more news on that in the future. I don't think I can ever say this enough, but thank you all for being such an awesome community. I sometimes forget how fantastic you all are, but other places on the Internet have helped me truly appreciate you guys. Keep building sick builds, and don't stop that flow of Waluigi memes.