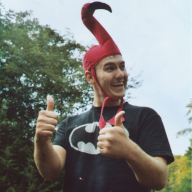 Joined

Nov 10, 2016
Messages

594
Likes

1,575
Portables

3
Jumping on Switch bandwagon with the name. There's already some really incredible worklogs started for this compo and I know my work wouldn't stand a chance if I went the normal route, so I wanted to do something different.
What exactly is the Toggle? I'll let my buddy Xander sum it up:
Clear as mud? The Toggle will be a console dedicated to running those crappy plug-n-play games that take 4 AA batteries apiece, except instead they'll receive power from the dedicated console. I'm building it out of a Super Nintendo shell whose motherboard I fried while making a SNESp a few years back. My original plan was to keep the SNES shell and controller looking as stock as possible, but that's proving to be not so easy.
For cartridges I'm using some Super Famicom carts that I got in an ebay lot about a decade ago. There were some awesome games in the lot, like Link to the Past, Mario Kart, a couple of Final Fantasys, etc, but there were also a lot of bad ones like train scheduling and horse breeding sims that require greater Japanese reading comprehension than I have. Those are the carts I will be butchering. The above pic is an Atari Flashback 3. Should be able to fit easily with some minor trimming.
To keep the system looking stock, I wanted to decode the controller's signals using a microcontroller and pass individual button presses from there to the cartridges through the cart slot. I quickly became overwhelmed and scrapped that idea. Next was to wire one end of a VGA cable to each button contact inside the controller and mount a VGA port to the front of the system. After all, 15 pins, right? Wrong. Idiot me soon realized that several pins in a standard VGA cable are common ground. So I decided to switch (Toggle) to HDMI, which has 19 pins, all separated. Image above only shows the fit; port isn't yet wired up here.
After looking at how close together HDMI pins are, I thought it would be genius to design a replacement controller board with the HDMI footprint included and have OSHPark make it for me. Again, impatience won out again and I decided to dive in to the manual method. For anyone considering soldering to an HDMI port like I did, bend every other pin 90 degrees. That way adjacent pins aren't so close to each other.
I really only need 13 wires for the controller (12 buttons plus ground) but I went ahead and did 15 just so I could have some extra ground connections. After I tested continuity between these wires and the far end of the HDMI cable, I hot glued (yes, the dreaded 'H' word) all the wires in place. My 6 month old woke up from his nap before I could get any further, but wiring the port to the inside of the controller
should
be a snap. Once that's done the controller should be done and I'll start focusing on the system itself.
Last edited: