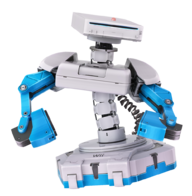 Moderator
Staff member
.
.
Joined

Jan 31, 2016
Messages

1,273
Likes

2,690
Portables

6
I got a Wii Mini (RVO-CPU-01) with a HOLLYWOOD-2, which has not been documented in this thread yet. I have delidded it, and it seems to be a 45nm die-shrink of HOLLYWOOD-1. Also, it is branded Renesas instead of NEC.
Yes, the existence of this chip is known. It seems to appear interchangeably with the Hollywood-1 on Wii Mini boards. I haven't performed power consumption tests myself, but another user who tested it told me the power consumption delta was not significant. If you can acquire a Wii Mini with a Hollywood-1 chip and perform comparisons, that would be useful data to have.
My suspicion is that the power consumption reduction from an (assumed) 30% GPU shrink alone is not going to be enough to justify making portables out of them. From the 01 to the 40, both the CPU and GPU were die shrunk, which is why we have such a drastic reduction in power consumption. Wii minis are far less common, and there would be no way to know from the outside if it has a Hollywood-1 or Hollywood-2. To make matters worse, hacking a Wii mini is far more complicated, and the board and its behaviors aren't as well documented.