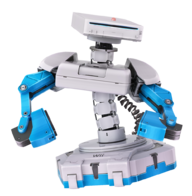 Moderator
Staff member
.
.
Joined

Jan 31, 2016
Messages

1,213
Likes

2,478
Portables

6
Here's a draft of my U10 Troubleshooting guide. If you have any suggestions, let me know

U10 Relocation Troubleshooting
If you cannot get your board to boot after relocating the U10 chip, following these troubleshooting steps in order will help solve most common issues.
-If you removed U9, make sure to run a jumper between pins 4 and 5 (see Figure 4) on the U9's footprint or the console will not boot. Do NOT run a jumper between pins 4 and 5 on the U10's empty footprint or the relocated U10.
-Check continuity between 3.3v and GND. If you have continuity, then you have a short somewhere.
-Make sure you have a solder glob connecting pins 1-3 (Figure 5)
-Check Continuity between the solder glob on pins 1-3 (Figure 5) and GND. If you DON'T have continuity, you may have burnt off the pads. This can be fixed by running a jumper wire from them to GND.
-Check the continuity between pin 5 and 3.3v. If you DON'T have continuity, you may have a burnt off the pad. This can be fixed by running a jumper wire from pin 5 to 3.3v. (Figure 5)
-Check continuity between pin 4 and GND. If you have continuity, then you may have a short somewhere. (Figure 5)
-Check continuity between pin 4 and 3.3v. If you have continuity, then you may have a short somewhere. (Figure 5)
-Power the console on and check voltage of pin 4. If you do NOT get around 3.3v, and have followed all the above steps, you may have a broken U10 chip. (Figure 5)
-Power on the console and check the voltage of pin 4. If you DO have 3.3v, and have followed the above steps, your soldering to the via below the GPU may be bad. Ensure the via is properly tinned, and resolder your wire to the tinned via. (Figure 5)