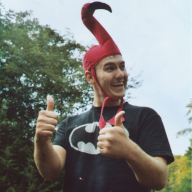 Joined

Nov 10, 2016
Messages

606
Likes

1,618
Hey guys. My current project is a PSone portable I've been building off and on for about 2 years. Lots of pics to get where I am today (100+ of this project on my
photobucket
) and I wanted to share my progress up until now with you.
Wii U style case. 5" widescreen which I'll switch to 4:3 and hide the black sidebars. This started as a build for a compo on the Bacteria forums in 2014, so ignore the signs in the pics.
Used melted ABS plastic (my favorite filler) to strengthen the case and cement the controller parts in.
Not being careful with ABS filler = warped plastic. I actually had to rebuild 90% of the case. Used some plexiglass to help me mount the disk drive.
Wasn't lying about rebuilding the case. Front half was too warped so I cut out all but the border and replaced it with plexiglass. Also had to cut up a second controller.
Trying to protect the disk drive and mem card slot while priming. I'll let you know how that worked out...
Did some board trimming to fit into the case more easily. Never had to do this for any of my earlier projects, but it was just excess ground, so I felt pretty safe. Oh yeah, Doom was hosting his annual Ghosts of Portables Past event last month. That's what the new sign is for.
Lots of hot glue.
The project as it stands today. Closed, but not quite completed.
Initial testing said all is well. FF Origins loaded pretty quickly. Further testing said that the disk drive is going out. I guess all that masking tape while painting wasn't enough. Tried loading Tony Hawk 1 and it sat at the PS logo. I fried 2 PSone boards during this project, so I know I have at least one spare drive. Unfortunately that means I'll have to literally cut the bad one out of the case. In the meantime, I've got a handy portable memory card manager.

Back view. Disk cover is being held on with rare earth magnets, which don't do a terribly good job, mostly because the magnets on the case-side are buried under a layer of plexiglass.
Oh, and for those curious about the name PSYu, it's a play on Wii U/PS U. ユ is the Japanese katakana character for 'yu', which I think looks good in the PS2-style font. I admit it's a bit cheesy, but...
Edit: Relinked all the broken images. I'm not 100% sure which pics I originally posted, but I tried my best to post the same ones as before based on the commentary.
Last edited: