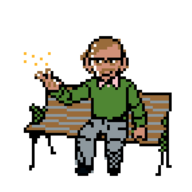 Modelrater
.
.
.
Estmemed Member
Joined

Feb 17, 2016
Messages

657
Likes

1,501
Portables

Always 1/2
Since SS had mentioned he doesn't check the Modretro MGC anymore I'll post this here for convenience.
Midwest Gaming Classic 2016
Friday April 8 - Sunday April 10
at the Shearaton Milwaukee Brookfield Hotel
Brookfield, Wisconsin (just west of Milwaukee Wisconsin)
http://www.midwestgamingclassic.com
*Unfortunately, no Ben this year, as he's doing a Ted X Talk in Jersey that weekend.

I have emailed him to see if there's anything from TBHS he wants to display in the room anyway.
2015 Show Highlights:
Inaugural Friday Night preshow was fun. A lot of the event rooms were open to check out, just couldn't venture into the vendor's "temporary structure" (it's a giant tent but I got Dad-scolded for calling it such the first year it was used)
There were Bands! That was pretty cool. Even that weird one with the theremin and the lady yelling a megaphone into a microphone and beating on a war drum.
A ton of streetpass to collect. You could collect puzzle pieces and clear them out for the entire 72 hours of the event.
There was a Primal Rage 2 Arcade Cabinet to play, the only (Working) one in existence IIRC
Somebody had a Oculus Rift, probably.
Every console set up to play
Tons of Arcade Games and Pinballs set up for free play (250+)
Lots of vintage computers set up to play.
Different setups of genre's; A lightgun setup, a Bullethell setup, a Steel Battallion multiplayer setup, etc.
I've been running space since 2010 for mods, fixes, portables and projects to display. Marshall will have his new UltraHDMI dealy along with a 64drive setup. We'll also have a 3D Printer running PLA all weekend and tons of prints to display. Bring a completed portable to show off, or BYOT(ools) if you wan to work on something there.
2016 Show Highlights:
You?