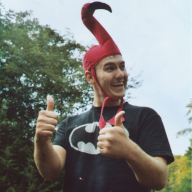 Joined

Nov 10, 2016
Messages

606
Likes

1,618
This is the very first portable I started building, but got put off time and time again and I think was the 3rd that I completed. I finished the build prior to becoming a member of BitBuilt, but I'm posting it here for posterity's sake. I'll post more of my completed projects if the mods allow.
Details:
Build start: ca.2011
Build complete: June 1, 2016

Original Nintendo 64 motherboard - believe it or not I didn't fry a single board on this build!

Third party controller

5" widescreen backup monitor, permanently set to 4:3 aspect ratio

7.4v Li-Ion batteries at 4400 mAh
Generic mp3 amplifier and speakers

Tupperware-style case
LOB64 communications jack for multiplayer and AV output

Glow-in-the-dark paint job.
Work during
@Doom
's 2015 Ghosts of Portables Past event. Ignore the sign.
A nightmare of poor planning but whatevs. Done.
Last edited: