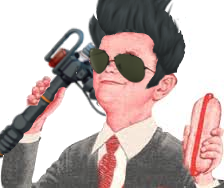 Joined

Jun 14, 2018
Messages

49
Likes

13
Portables

do tupper-stein count?
Hey guys,
I'm currently working on my android Gamepad but working without music sucks, I don't like to put my music on speaker I prefer to keep it for myself but earbuds wires tend to tangle up with all my tools or constant ''where did I put this thing again'' movement.
So I took the plunge and bought Bluetooth earbuds, I got super cheap 20$ CAD ones from escape
for 20$ they were convenient, sound was okay, the only downside is the battery life, 4h isn't bad but I wanted more. So I changed the 100 mah battery inside for 350 mah but bigger battery = more space required.
So after a trip to the dollarstore to find a convenient casing for the battery (a 2$ flash light did the trick), some apoxie sculpt and crazie glue, I came up with this
they're pretty meh looking but my earbuds now last a wooping 12h. The extra weight of the battery isn't so bad, they hold when I shake my head violently so they should hold in many other situations.
I'll keep working on them for a more sexy design (I'm thinking something like the
Walkman W252
would be pretty cool)
I should start a worklog for my android gamepad pretty soon and they will assist me through the endless trial and error path I'm about the venture on.
Last edited: