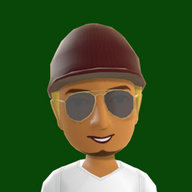 Joined

May 10, 2019
Messages

52
Likes

93
Location
Portables

2
Hey guys,
After whipping together my last "Portable" and getting the excitement of having one (even though it wasnt handheld), I decided to put in the real work to make a good (hopefully practical) Handheld portable. After combing through the forums and my box of handhelds to see what somebody hasnt done yet, I settled on the PS Vita (regardless of being Sony opposed to Nintendo), So the idea is to build it all into a custom case resembling the PS Vita aesthetic.
What im going for is this:
1.) Custom LMAO Trim w/ bitbuilt sold cooling solution.
2.) RVL-PMS w/ USB-C PD Charging
3.) custom button PCB's, NDSL buttons, Vita D-Pad, Switch Joysticks, GC+ w/ dual tact switches and custom shoulder buttons resembling PS Vita
4.) 5 Inch VGA display (resembling PS Vita Display)
5.) U-AMP possibly with OEM Vita Speakers
6.) No bluetooth as BBL has built in GC2Wiimote
7.) May fit in MX chip whenever VC becomes available in BBL
8.) Tweaking case design for 18650 cells but am also researching small form factor battery options (such as switch battery: 3.7V, 4310 mAh)
9.) and much more lol
This project will be a work in progress for a long while for many personal reasons. Mainly because I still have yet to learn more intensive 3D Modeling software etc. but I did get quite familiar with the shitty "TinkerCAD" while I was working tech support so I did whip up a mock design of what I want, but this will be "converted" to something A LOT better in the future. I promise lol.
This is pretty much a PS Vita (size wise), but its about 2mm bigger on each side and a bit thicker than a OEM case. Ive been just mainly looking at what is going to fit where, and even this is nowhere near the final positions of the components etc.. This "version" also uses a switch battery, but Im not even sure if it will work so some very careful testing is to be done before thinking about that. Chances are, ill probably keep 18650 cells but have them into the case kind of like this:
But as I said, this is all just an idea for now while I source my hardware and get more familiar with a more intense CAD software. I did look more into the top portion so far as Im more picky about my buttons, button boards, and placement for now. Im no tetris player, but ill fit it all in LOL.
For now I am just doing a lot of planning as I am moving across the country soon, so I dont wanna get comfortable with my equipment until im settled in somewhere else. I know I may seem a little too optimistic, but I'm willing to put in the work to pull it off. I do plan to document this a lot better though so updates will be posted accordingly!
Last edited: