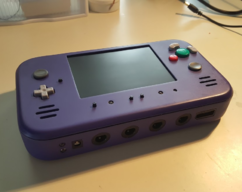 Broke BitBuilt
Staff member
.
.
Joined

Dec 15, 2016
Messages

976
Likes

1,314
Location
Portables

1
I've been thinking for my next portable I'd really like to create a fully custom case. With the amazing work I've seen by people like
@Downing
,
@GingerOfOz
, and
@Bill Paxton
, just to name a few, I've been pretty inspired. However, I do not own a 3d printer and have zero experience with 3d printing or 3d design.
That being said, I'm very interested and willing to invest time to learn but I don't know where to start. I will be attending UCSB this fall so there might be a 3d printer I can access there but perhaps in the future I'll invest into buying/building one if I did some research on what is quality to buy.
What software would be good for me to start with (hopefully free or at least free for students)? What are some tips that you guys have learned on the way that would be beneficial for me to know? How did you guys get started learning? Do you all own printers or do you print somewhere else? What are the pros and cons to 3d printing versus other methods? Where is a good place for me to start learning? And videos to watch/tutorials to follow?
Sorry for all the questions, I just have zero experience in this and am really interested in learning this not just for portablizing but for myself. I want to create something similar to
@Air Conditioner
's
Dolphin Boy 2
and it seems like it would be a lot of fun. I'm hoping this thread will help other people like me get introduced into CAD as well!
Last edited: