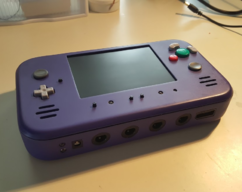 Broke BitBuilt
Staff member
.
.
Joined

Dec 15, 2016
Messages

1,017
Likes

1,361
Location
Portables

3
It's actually 3.16 out and 3.2 in, I think my PTHs are .1 off.


Also I'm using 22 gauge wire for gnd.

third, is there any way to verify the cut trace without desoldering the u10

fourth, I think I cut it properly since I did the u10 relocation before trimming and the board still booted.
I would adjust the PTH resistor so that you're actually getting 3.3v. it's always better to be a little over than under. Also, I would add another ground wire or use a thicker wire. The voltage may drop over the wire from the increased resistance of the thinner wire.