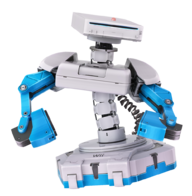 Moderator
Staff member
.
.
Joined

Jan 31, 2016
Messages

1,222
Likes

2,513
Portables

6
Before you gut your console, please post the Revision, Serial Number, and Color of the console here. You can check the revision without disassembling the console using method 2 in this guide. We need as many entries as we can get, so please record every console you can.

Now you can submit your serial numbers through a google form! If you have a large number of serial numbers, DM @cheese and he will add them so you don't have to go through the form for every single board.

Form:
https://forms.gle/o1aCp1nfoDJiJRjw5
While there isn't a method set in stone, @Madmorda has found that there is definitely a correlation between serial number and motherboard revision.
Code:
-White Wiis starting with LU7 are most likely 4 layer.
-White Wiis starting with LU1 may be 4 layer or 6 layer.
--LU10 is probably 6 layer
--LU11 could be either 4 layer or 6 layer
--LU12 through LU19 are most likely 4 layer
Back in the ModRetro days, I was able to check the date codes and discover that Nintendo switched over to using 65nm GPUs (and 4 Layer boards) shortly before releasing the Wii in colors other than white. This also happened before Nintendo released the newer version of the Wii without Gamecube ports. This is how we know for a fact that any non white wii with gamecube controller ports and any wii without gamecube controller ports (including white ones) will have a 4 layer board. This information has been invaluable for portablizers, and is currently the only sure-fire way to track down an efficient board without removing the battery tray. White Wii's with Gamecube controllers are by far the most common variant, but they are also the only wii shell that doesn't guarantee a die shrunk 4 layer board. They CAN have a 4 layer board, but are not guaranteed.
There are so many 4 layer boards hiding in white wiis waiting to be cut up. I want to see if we as a community can find a trend between serial number and revision. The larger sample size we have, the more accurate of a theory we can come up with. Next time you open up your next wii, write down the revision code and serial number, and post it here. Ill add it to the spreadsheet, credit you, and maybe one day we can find a trend.
The spreadsheet:
This idea was inspired by the
Wii Drive Chip Database
. They may have info that could be useful for this project, but I don't know much of anything about the disc drives themselves.
Last edited by a moderator: