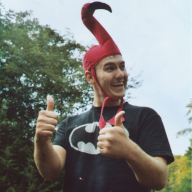 Joined

Nov 10, 2016
Messages

578
Likes

1,517
Portables

3
The Guitar Boy is a project I finished a little over a year ago. I hosted a Game Boy-themed build comp on another forum and created this as an exhibition piece.
Tried going for the Fender logo-style font. Painted on by hand using a toothpick.
Features
:
System: Raspberry Pi B+ running RetroPie v2.3
Screen: 5" LCD
Controls: (Start/Select/d-pad) custom wooden buttons over tact switches, (A/tone and B/volume combos) custom wooden buttons over push button potentiometers
Case: Custom made pine guitar body, plexiglass coverings
Batteries: 2200mAh, 7.4v fed to a 7805 voltage regulator for 5v
Audio: Standard 1/4" audio jack for outputting to guitar amplifier or other sound system.
Others: Power switch (on top near the neck), charging jack, audio selector switch (left side - switches between guitar or Pi audio), escape button, guitar strap buttons, humbucker pickup, D'Addario EXL120 Nickel Wound stings (currently)
The comment I got most on this was that it would be nice to have an option to output sound from the Pi and the guitar at the same time. Would have been easy to implement, but for whatever reason I decided to do it how I did.
Oh yeah, I also submitted this mod to Guitar World magazine. They featured it in their monthly column "It Might Get Weird" in their Holiday 2015 issue.
All guitar parts (except body and knobs) salvaged from a cheap Peavey Rockmaster.
Multiple dry runs.
A look at the guts before painting the plexiglass cover to hide them. I originally planned to include a built-in mini amp and mp3 speaker, but scrapped it in the interest of time.
Last edited: