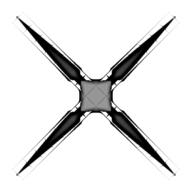 Joined

Feb 28, 2017
Messages

93
Likes

138
Location
Portables

Melted in the Sun
So you are making a portable and everything is going well. Half way through you decide that you want the ability to have multiple controllers connect to your portable; oh no, you don't have any more room but for one extra port because you didn't plan it out in the beginning. Or perhaps you made your design small on purpose but the added functionality would be cool.
Well, I have a solution for ya, make a breakout box. Some advantages in having a breakout box include:
More space for other components such as batteries
Removable player ports for solo playing
Less weight to your portable
Slightly less wiring
This guide does not include disabling the internal player one port, but such a thing can be done just by wiring up a simple switch. Connect P1 Data of the Wii to the center of the switch, connect P1 Data from the internal controller to one side, and P1 Data from the external controller to the other side. Connect all wires listed on the right to their respective places on the Wii. Below is the wiring diagram:
The above connector is called a DIN 7-Pin connector, you can find these on Amazon or eBay for cheap. If you do not care about rumble functionality, you may omit the 5.0V line and use a DIN 6-Pin connector. Of course if you want, you can use any connector you want as long as it has 7 Pins or more. Such alternate connectors may include: USB Type C, VGA connector, CAT-6 (Ethernet) etc.
(This guide is for use on BitBuilt and other approved forums by The Next Guy or BitBuilt staff. Any duplication by non BitBuilt staff or The Next Guy will be considered
unlawful
)
Last edited: