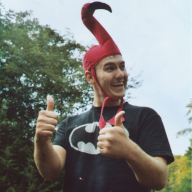 Joined

Nov 10, 2016
Messages

594
Likes

1,575
Portables

3
Here's a hot little mess of a project that sat unfinished on my workbench for waaaaaaay too long.
This project started out as one of those ugly NES clones built into an imitation-N64 controller shell. Also, it had the 60-pin Famicom cart connector rather than the NES 72-pin, which is what gave me the idea to make a miniature Famicom console.
For the internals, I wanted to do as little work as possible. The electronics were already pretty nicely condensed, so I figure why reinvent the wheel. The only thing that was a concern was figuring out how to wire up the NES controller ports, since player1 controls were built into the daughterboard. But with some poking around and guesswork, I got it figured out without frying anything.
I designed the case to work with the layout of pcb, including the placement of the RCA jacks. For power, the unit runs nicely off of 5V, so I used a USB type B connector for power since that's what I had on hand.
Apart from the short boi multicart that came with the clone, the only Famicom game I own is Final Fantasy III. When I put the whole thing together, I discovered that the cart didn't seat low enough for the cartridge pins to make a good connection, so I had to trim out the inside of the cart slot so the cart could be pressed in further.
The clone hardware has several games built in which are selectable when no cartridge is connected. I haven't gone through the whole list of games (I'm sure most of them are junk) but the clone has Contra and Mario built in, the 72-in-1 has Super C and Donkey Kong, and with my FF3 cart, I've got plenty of great games already.