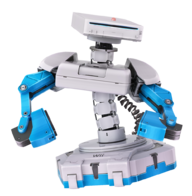 Moderator
Staff member
.
.
Joined

Jan 31, 2016
Messages

1,113
Likes

2,144
Portables

4
The dreamcast is probably the least documented console that can be portablized. While it is very unlikely that significant motherboard trimming could occur, documenting the console will be necessary to actually build portables. There are bits and pieces scattered on the internet, but no quality guides have been made. In this thread, we will try to accumulate the information from around the internet, share notes, and discuss findings and theories. The information found in this thread should not be taken as absolute, because, as of writing, the electrical side of the dreamcast is still not fully understood.
Main Voltage lines:
12v
-Not needed to boot
-Used by disc drive laser
5v
-Required to boot
-Uses .42a
3.3v
-Required to boot
-Uses 2.8a
-Powers the 2v and 2.5v lines
-Uses .4a when not feeding onboard linear regulators
Onboard Voltage Lines
2.5v
-Draws 1.6a
2v
-Draws .75a
I have found 2 onboard voltage lines, 2
v
and
2.5v
. These are powered by linear regulators, fed by the 3.3v line. Powering these by custom regulators instead of onboard ones may lead to significant reduction in power consumption.
Other things to discuss:
Video options/pinouts. Aftermarket/fpga video options?
Disc drive replacement options and wiring diagrams
Controller diagrams
Source of/replacement for 2v and 2.5v lines
Booting without the fan attached
Can any components be removed?
Can we trim it? (probably not much if any)
Which components need what voltage
Datasheets for onboard off-the-shelf chips
Discuss!
Share your notes, findings, and diagrams. All discussion is encouraged.
Last edited: