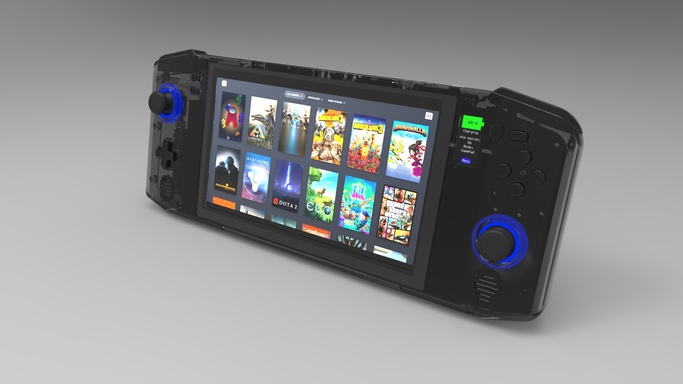 Joined

Feb 16, 2020
Messages

216
Likes

883
Location
Portables

3
Hi guys, this is my build log for my take on the Concept UFO that Alienware showed off earlier this year.
I'm not aiming for a 100% copy, but I want it to be quite similar in appearance since I love how it looks and the idea behind it. I've had a little bit of a head start as I've been planning to build a larger handheld since late last year and seeing this concept in January really kicked me into gear on working on my design. This will also be my first go at designing something "ergonomic" so it will be interesting to see how it goes!
The reason I chose this as a project is that a lot of the games I played when I was younger were on the PC. We had a playstation but aside from that my only other option was a PC. My first portable covered all the Sega and Nintendo stuff I missed out on as a kid and now I'm looking for something to re-live some of my favorite older games and what better way to do it than on a system that will run them natively? After quite a bit of research I decided that my best bet price/performance wise was to purchase an 8" windows tablet, gut it and design a housing for it. There were plenty of other options but to get any more power in a package this small I would be looking at A LOT more money and I'm just not willing to spend that much at the moment.
So with all of that in mind, here's my proposed features list:
Windows based with enough power to play games up to the early 2000's

Touchscreen
Multiple external full sized USB ports
Internal speakers and headphone support
Hand grips similar in design to an Xbox for comfort
Button layout and overall design close to concept UFO

Enough battery for a couple of hours play time
Addressable RGB joystick surrounds and maybe a few buttons too

Active cooling

Plenty of internal storage for games
The biggest hurdle for me on this one has definitely been coming up with a housing design that can be machined, since I don't want any 3D printed components on the final product.
I've mostly finished the external design of the housing, still a lot of work to do on the controller PCB's and internals but here's a picture to give you an idea what I'm aiming for.