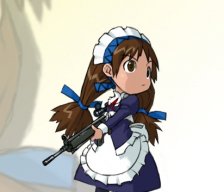 Joined

Jul 9, 2019
Messages

22
Likes

37
This is such an obvious idea that I can't believe I'm the first person to think of it, but a quick search didn't turn up anything. The input signals on the RVL-AVE seem to be using basically the same multiplexed digital format as the encoder in the GC, and there are already projects that take this datastream and reformat it into say HDMI.

I have a bunch of 480x800 "dumb" TFT panels (sadly not IPS, but at least they were free) - these use a 24 bit 8:8:8 RGB input - so if you took the data being fed into the RVL-AVE, stored it in a line buffer and then clocked it out at the correct rate for the panel (possibly interpolated to fill the pixels).

This would really only work in 480p mode (I guess you could detect the Vsync frequency and line double with some loss of visual quality). And I guess the anisotropic scaling might look a bit nasty, but I cant' think of any basic reason it shouldn't work.