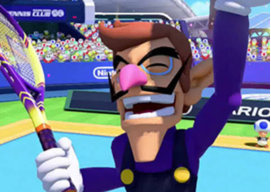 no wario
Staff member
.
.
.
Joined

Dec 16, 2016
Messages

1,007
Likes

2,226
Location
Portables

3
The ability to use USB to run homebrews and such is awesome because of how easy it is to transfer new software and games onto it, but it's not totally perfect. The tiny USB drive in the BOM is super cool, but I can't even count how many times I've set it down somewhere and couldn't find it for a few days. Additionally, even though it is extremely small, I really didn't like it jutting out of my portable and clashing with the glorious purple of the WaluWiigi. These two factors caused me to look for a way to keep the USB drive housed within the unit, while still being able to easily access it in order to put new files onto it. With the help of
@JacksonS
, I have a working prototype board that safely switches the USB data and power lines in order to have a seamless internal USB drive accessible through micro-USB.
It's a fairly simple circuit. A 5v MOSFET switches 5v to the USB drive depending on whether 5v is coming in from the micro-usb port or from the portable's regulator, and when power is coming in from the micro-usb port a digital switch disconnects the data lines from the Wii to prevent any potential damage from occurring to the Wii. There are two LEDs on the board and both are simply there for testing purposes, though I will be using one of them in my portable to indicate when a micro-usb cable is plugged in.
I've been testing the circuit fairly vigorously over the past few days and it has performed quite well. I've transferred a variety of GameCube and Wii games back and forth and have not had the connection drop or become interrupted at all, so I feel confident in its stability. I've also jerryrigged it up to a Wii and it loads games and such just fine. That being said, I'd recommend doing your initial big transfer of all your favorite games by just plugging the drive straight into your computer so that you can use the USB 3.0 speeds and have less of a chance of overtaxing the circuit or something. I don't think that should be an issue, but better safe than sorry.
I am making this design open source and available for everyone who wants to use it. The Eagle files are available in the .zip folder at the end of this post, and
a BOM can be found here
. If you want to just order the blank PCBs straight from OSHPark,
you can do that here
. Feel free to tweak, add on, and combine this design into your own projects. If you don't feel comfortable assembling this on your own, drop me a PM and I'll help you out. If anyone has any questions, go ahead and ask them here! I hope some of you find this useful.